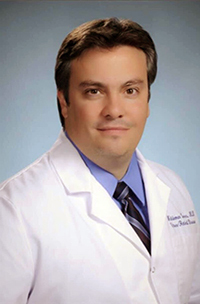 I'm often their last hope. When I'm able to help patients continue to function independently, it's very rewarding. These patients understand that some vision is better than no vision.
Thanks to new treatment modalities and ophthalmic drugs, the prognosis for patients with retinal disease is better than it was even a decade ago. I'm thankful and thrilled to be able to bring these advances to my patients at South Texas Retina Consultants.
Waldemar Torres - Carlo , M.D., FACS
Dr. Torres is a Board Certified Ophthalmologist specializing in diseases and surgery of the retina, macula and vitreous. Dr. Waldemar Torres graduated with honors, Magna Cum Laude from the University of Puerto Rico, Engineering and Sciences campus in Mayaguez, Puerto Rico. Then he graduated top 5% of his medical school class at the Ponce School of Medicine in his hometown, Ponce in May 1996. He completed a transitional internship at Wilson Memorial-Binghamton Hospital in Johnson City, New York, which is affiliated with the State University of New York at Syracuse.
Following his internship, Dr. Torres completed a three-year ophthalmology residency in 2000 at the Bronx Lebanon Hospital Medical Center, Bronx, N.Y., which is affiliated with the Albert Einstein College of Medicine/Yeshiva University. He also served as Chief Resident of Ophthalmology during his senior year at Bronx Lebanon Medical Center in charge of everyday organization of the hospital ophthalmology clinic and teaching activities as weekly teaching rounds.
Dr. Torres then went on to a two-year medical-surgical retina fellowship at the South Texas Retina Consultants in Corpus Christi, Texas in 2003. He spent two more years as a vitreo-retinal surgeon, serving six offices in the South Texas region. Then he moved to Tampa, to work in a large volume cataract practice but then decided to open his own practice in 2007, serving several hospitals throughout the greater Tampa metro area for three years and treating Retinopathy of Prematurity at the St Joseph's hospital in Tampa. Dr. Torres was also involved as an investigator in many of the clinical trials conducted at the Sarasota Retina Institute in Sarasota, FL. I often see patients every day who are terrified of losing their sight. Many times my goal is trying to preserve rather than restore sight because existing damage to the retina cannot be reversed.