Charles H. Campbell, M.D., F.A.C.S., F.I.S.C.
Dr. Campbell states: "The tragedy of eye disease is that so much of it is actually preventable. Yet many people just seem to sit back and accept it. They are resigned to their fate. They think 'Well, I'm getting too old, and the eyes are going,' or they are reluctant to impose on someone to take them to the physician. For some, that imposition would be almost impossible anyway. For low-income families with few resources, distances in South Texas can be formidable."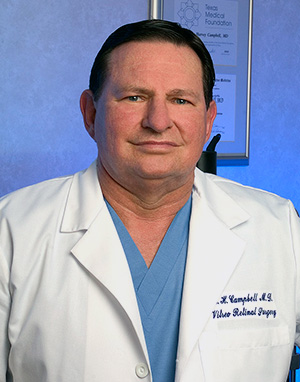 ---
Dr. Charles Campbell is a board-certified ophthalmologist specializing in vitreoretinal surgery. He is a member of the American College of Surgeons, International College of Surgeons, American Society of Retina Specialists, Macula Society, Texas Society of Ophthalmology and Otolaryngology, Texas Ophthalmological Association, Nueces County Medical Society, Texas Medical Association, American Medical Association, International Eye Foundation, and American Society of Contemporary Ophthalmology.
In addition, Dr. Campbell is a past Medical Director of a worldwide project for exchange of professional skills, called Project Orbis which provides, among other things, free ophthalmology training world wide. A graduate of the University of Texas, Dr. Campbell received his medical degree from Tulane University School of Medicine.
After completing medical school, Dr. Campbell received six years of specialized training in his field. In recent years Dr. Campbell has been a major advocate for improving medical care in South Texas, Texas statewide, and the nation.
He has served as a delegate from the Nueces County Medical Society to the Texas Medical Association and President of the Nueces County Medical Society. Dr. Campbell has also served on the Texas Medical Association's Committee on Rural Health and a special committee appointed by the Texas House to study how telemedicine can be expanded to improve the health of rural Texans.
"The sad part is that most people do have Medicaid, Medicare, or insurance that would cover treatment costs. Many times it is not the money that is the problem; they just don't seek help or don't realize they should. It could be that the symptoms have come on very gradually over a period years and they don't realize the extent of the impairment."
"Eye disease is most often silent, and painless. These patients could be candidates for disaster. This is particularly true in rural South Texas where diabetes statistically occurs at a much higher rate than in the general population."
"Being from the city doesn't exempt you from the threat of the silent eye disease either. Our community is fortunate to have the inundation of Winter Texans into our area during the months of October through about March. Our retirement community increases considerably as does the occurrence of another silent eye disease, macular degeneration. Nearly ten million Americans have macular degeneration, and there is an estimated 350,000 more that will be affected this year. It is terribly sad when people lose their eyesight needlessly. One day vision can be fairly good, still salvageable; then a time bomb goes off; it's too late. It could be in both eyes, and it many times could have been prevented."